Hello and welcome to our site!
We are the power vocal rock band  Song Monster.  If you want to know more about who we are and what we're all about, then click the About Us button in the top menu, and click on Contact Us if you would like even more information.
If you would like to see our song catalogue and sample some of our music, please click the Our Songs main menu button.  Please check back on occasion because we'll be adding new productions as they are completed.
Several songs can be previewed in the PLAYLIST player that you will find on several of our pages.     
Our upcoming performances and repertoire can be found on our Shows page.

If you would like to purchase individual songs, CDs, DVDs and other items, please check out our Shop Now page. 
Thanks for dropping by!
* * * * * * * * *
Here's what folks are saying about our new 12 song album and CD release, "It All Begins With You"…
"So far this morning I have purchased the freshly-released Song Monster album and listened to DREAM AWAY on my iPhone. I was BLOWN AWAY — the production, vocals, instrumentation and the nuances….I wish you great success with this diverse collection of musical styles. Now, to go find some decent speakers and enjoy listening to the rest of the tunes." – J.B.M.
"….I've been a musician for 56 years, I've known and played with some of the biggest names in the industry, I've recorded in some of the best studios in North America….the talent and quality on this CD blows me away, I love it, it has become one of my most favourite albums … ever, guys keep up the good work I would love to see you live, congrats!!!!!" – G.C. 
"Fantastic!… outstanding album … in a class of it's own… love all the harmonies …!" – E.J.C.
"This CD is in heavy rotation at our house, and car!"  – H.L.M.
     "Aloha from Hawaii. Just listened to one of your beautifully done songs. Bravo!"  – L.E.
"I hear SO MANY influences here – and they all combine into something very unique and original.
There are also so many layers to listen to here – from the soaring, complex vocals, through the shredding guitars to the intricate keyboard work. I listened to this a number of times and heard something new each time. It all depends upon where "you turn your ear" – and there are so many things to turn to.
There's something for everyone here. Nicely done, Lads!!" – R.M.
"We received our CD this week and we absolutely love this album!
My favourite track is "Here in my Heart" and my husband's favourite song is "Heartaches Come Easy"!
We will listen to the entire CD again and again! :)"  – B.&R.B.
"Very professional-very much like the best classic rock songs.
Nice mixture of sounds(synth and guitar…" – F.T.
* * * * * * * * *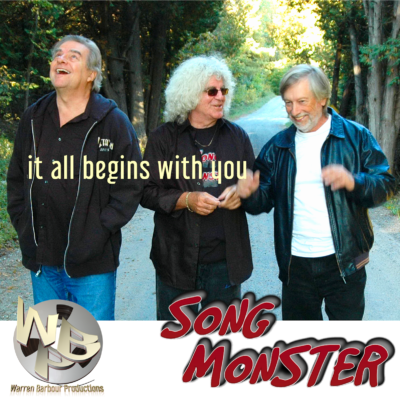 * * * * * * * * *
Our 2016 single "Wake Up! It All Begins With You!"…
* * * * * * * * *
Here's what folks are saying about "The Warmth Of The Sun"…
WOW!!! Fabulous!!!!! I absolutely love it!!!!! Well done!!!!…  C.A.M.
Now THIS is summertime. THIS is talent… J.B.M.
I bought their first single…. Loved it! Listened to this one and loved it too…  L.M.T.
Wow!!!!!!  Wish I'd been there in the studio.  It must have been fun mastering those vocal gymnastics. Fantastic!… R.M.
I was going to do some work, but I think I'll have a glass of wine on the deck instead. Thanks for reminding me it's summer." …  D.P.
Nice arrangement and harmonies. Vintage, 'new and improved' .…  P.J.
* * * * * * * * *
Here's what folks are saying about "Here in My Heart"…
…OMG… it is beautiful…"Here in my Heart"….. the sound is soft and gentle and there is so much tenderness in the presentation.… I love the words and the music… thank  you so much for sharing this….it is a work of art… T.D.
…A beautiful, innocent love song with a vocal arrangement that compares to almost nothing that's been on the music scene for decades (what a shame)… I really believe in this song…  J.B.M.
* * * * * * * * *