Hello and welcome to our site!
We are the power vocal rock band  Song Monster.  If you want to know more about who we are and what we're all about, then click the About Us button in the top menu, and click on Contact Us if you would like even more information.
If you would like to see our song catalogue and sample some of our music, please click the Our Songs main menu button.  Please check back on occasion because we'll be adding new productions as they are completed.
Several songs can be previewed in the PLAYLIST player that you will find on several of our pages.     
Our upcoming performances and repertoire can be found on our Shows page.

If you would like to purchase individual songs, CDs, DVDs and other items, please check out our Shop Now page. 
Thanks for dropping by!
* * * * * * * * *
Our new 12 song album "It All Begins With You"…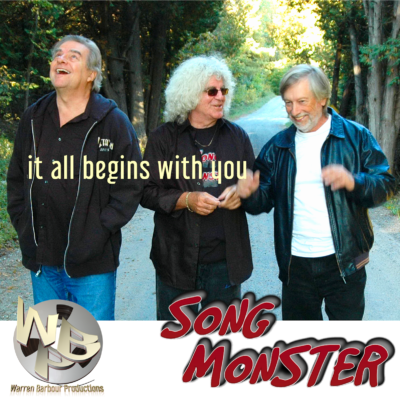 * * * * * * * * *
Our 2016 single "Wake Up! It All Begins With You!"…
* * * * * * * * *
Here's what folks are saying about "The Warmth Of The Sun"…
WOW!!! Fabulous!!!!! I absolutely love it!!!!! Well done!!!!…  C.A.M.
Now THIS is summertime. THIS is talent… J.B.M.
I bought their first single…. Loved it! Listened to this one and loved it too…  L.M.T.
Wow!!!!!!  Wish I'd been there in the studio.  It must have been fun mastering those vocal gymnastics. Fantastic!… R.M.
I was going to do some work, but I think I'll have a glass of wine on the deck instead. Thanks for reminding me it's summer." …  D.P.
Nice arrangement and harmonies. Vintage, 'new and improved' .…  P.J.
* * * * * * * * *
Here's what folks are saying about "Here in My Heart"…
…OMG… it is beautiful…"Here in my Heart"….. the sound is soft and gentle and there is so much tenderness in the presentation.… I love the words and the music… thank  you so much for sharing this….it is a work of art… T.D.
…A beautiful, innocent love song with a vocal arrangement that compares to almost nothing that's been on the music scene for decades (what a shame)… I really believe in this song…  J.B.M.
* * * * * * * * *